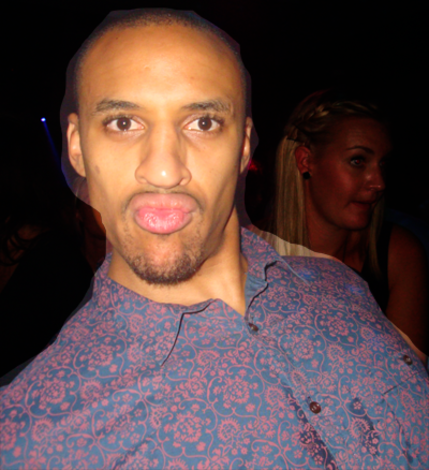 As the cream of the Black Angels program rises to the top to represent MUBC in the annals of the 2013 Big V, comparables could be drawn to the USA NCAA tourney which is about play off it's final 4 tomorrow morning.
Ignoring the slow start of last weekend, the Black Angel Men could well turn out to be the Michigan Wolverines surprise packet of 2013, led by indomitable swingman Nicholas 'Sexual Chocolate' Masunda. The original craig david lookalike definitely sports the Trey Burke 'ice in the veins' trait when it comes to blowing up a statsheet. When nick's not making basketball look like a walk in the park, he can often be found perfecting his spinach and date shakes in an effort to achieve transcendant immortality.
Air J-Con is another high flying black angel to keep an eye on this season, especially during warmups. I would liken him to Renaldo Woolridge because of all the active black angels, he definitely is the most likely candidate to stand by his zone and swag by his zone when the game is on the line. John's Teni will surely be watching on. Keep an eye out for big billy's icey wrists at post game functions.
Having a quick look around the league, it might be fun to poke a look at the early league office predictions. 
There has been the usual buildup of hype around teams like McKinnon and Warrandyte. This is not surprising given their admittedly awesome headcount representation on the Big V TV show.
In this reporters eyes however, they could both be candidates to be the first Gonzaga-style #1 seed that falls over to an emerging minnow.. Especially with the ludicrous '1 and done' Big V first round finals format which produced some big upsets last year. 
On current form, that Wichita State minnow this season could well be the Craigeburn Eagles led by Eric Minaflores. What a story! Here's hoping they keep up their good form in their first hitout at Div 1.
If we were to cut off the Big V season right here at round 2 however, our MUBC 'One Shining Moment' would probably actually be the re-opening of the change rooms at the sports center. Here's looking forward to being able to drain a beer on the sidelines at the next big V game and actually being able to follow up with a visit to a toilet!!
Anyways, enough hype. Get yourself down to the sports center tomorrow to catch all the action in our first home double header for 2013:
Sunday April 7th, 2013:
The final 4 is on ESPN from 8am
The Black Angel Girls are on vs western port at the sports center - 1pm
The Black Angel Men are on for retribution vs whittlesea at the sports center - 3pm